Roll out the red carpet! Awards are everywhere....Emmys, Grammys, ESPYs, oh my!
While not given the exact same spotlight, or fancy evening wear, actuaries give out their own sets of Awards. The 2018 summary is below.
The Robert J. Myers Public Service Award
honors exceptional contributions to the common good and goes to
Elise Liebers of New York, N.Y
wwhose wide-ranging and impressive public service accomplishments span work at the New York State Insurance Department (now Department of Financial Services), work in developing a National Association of Insurance Commissioners risk-based capital formula, building insurance expertise within the Federal Reserve Bank of New York, and being a leading U.S. voice at the International Association of Insurance Supervisors on financial stability and international standards for insurance supervision.
"Thank you to the Academy for acknowledging the contributions of actuaries who devote their careers to public service," Liebers said. "The actuarial skill set, education, independence and professional requirements combine to make actuaries uniquely qualified to assess the implications of various policy alternatives. The actuary's technical working knowledge of insurance is not at all easily substituted for, and I believe that actuarial perspective has been, and will continue to be, essential for sound policymaking."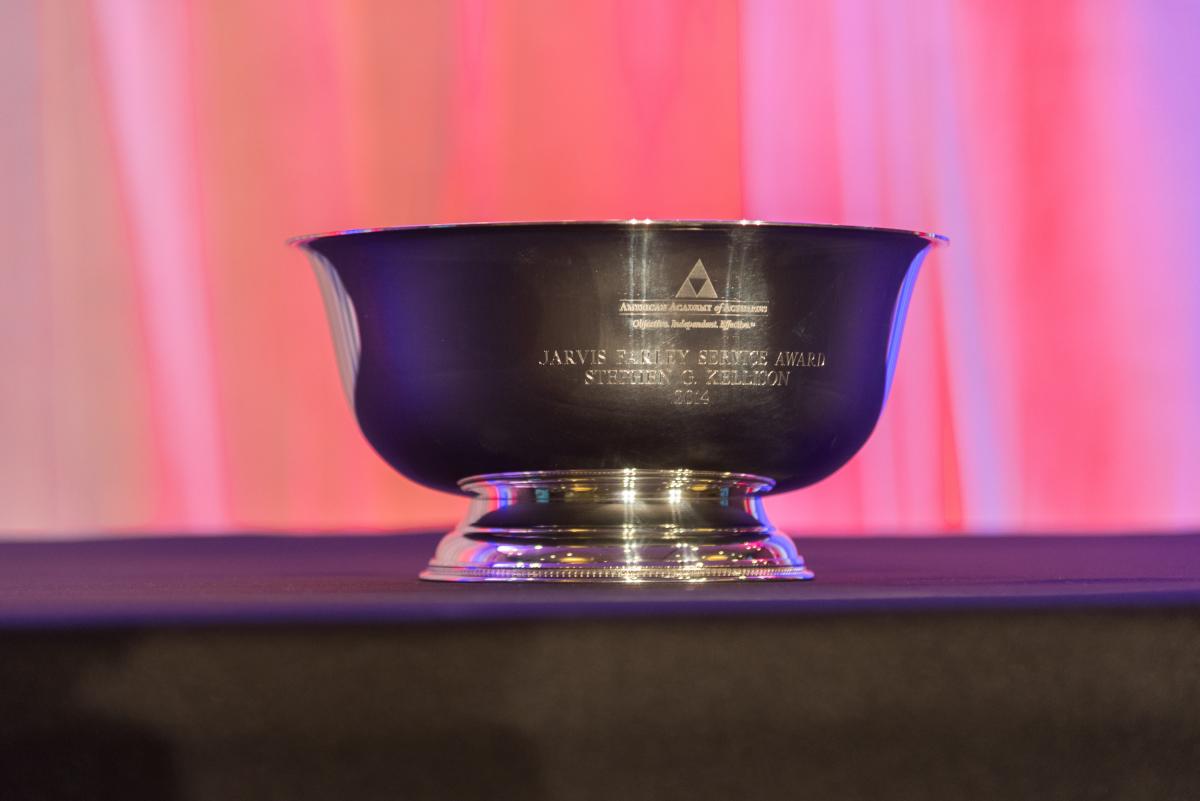 The Jarvis Farley Service Award
recognizes exceptional contributions to the actuarial profession and goes to G
eoffrey Sandler of Montvale, N.J.
whose long and distinguished record of Academy volunteerism includes serving as vice president of both health and professionalism as well as prolific contributions in numerous other volunteer positions."
There are plenty of opportunities to share our expertise for the good of the public and the profession," said Sandler. "It's easy for us to go about our day-to-day jobs and lose sight of how important our profession is in providing a sound basis for protecting the financial security needs of the public relating to life insurance, retirement plans, health care programs, and property and casualty protections.
"
Outstanding Volunteerism -
Karen Bender of Little Saumico, Wis.;
Lauren Cavanaugh of Pennington, N.J.;
Jason Russell of Washington, D.C.;
Wayne Stuenkel of Vestavia, Ala.




Mark E. Alberts, Carlos Arocha, Ashlee Mouton Borcan, Steven L. Craighead, Robert T. Eaton, Kelly L. Featherstone, Shu-Yen Liu, Brian E. Pauley, Kevin J. Pledge, Anna M. Rappaport, Heather A. Waldron
Hélène Baril
Brian L. Louth
Catherine D. Lyn
Timothy L. Rozar
Nazir Valani

Outstanding Session Awards
SOA Section Awards:
Investment Section
Education and Reserach Section
Other:
PRESIDENT'S AWARD
This year, the CAS President, Brian Z. Brown, recognized
Robert F. Conger.
Robert F. Conger (FCAS 1979) - Bob has almost 40 years of volunteer experience, first volunteering in 1980.
In addition to being a Fellow of the Casualty Actuarial Society, he is also a Member of the American Academy of Actuaries, an Honorary Fellow of the UK Institute of Actuaries, and a Membre d'Honneur (Member of Honor) by the French actuarial organization, Institut des Actuaires. He is a Past President of the CAS, and also served the CAS as Chairman of the Board, as VP-Administration, VP-International, an elected Board member, and Chairperson of multiple committees. Currently, he is CAS's International Ambassador.
AWARDS FOR SERVICE TO THE ACTUARIAL PROFESSION
Patrick Ford (FCAS 2014)
Daniel Watt (FCAS 2017)
David Wang (FCAS 2015)

Mallika Bender (FCAS 2011) - Recognized for work with the Diversity Committee
Todd Lehmann (FCAS 2002) - Recognized for work with The CAS Institute
Alejandro Ortega (FCAS 2006) - Recognized for work in the formation of the Organization of Latino Actuaries (OLA)
Stephanie Gould Rabin (FCAS 1999) - Recognized for work with the Annual and Spring Meeting Planning Committee
Peter Royek (ACAS 1995) - Recognized for work with the Professional Education Committee
Joshua Taub (FCAS 2008) - Recognized for work with the Insurance On-Demand Working Party
The following two members were recognized:
Regina Berens (FCAS 1983) - Through the years, she has been the Chairperson for the Strategic Planning Committee, the Long Range Planning Committee, Volunteer Resources Committee, Membership Survey Task Force, and additionally was a two time member of the Board of Directors.
David Oakden (FCAS 1979) - Through the years, he has been the Chairperson for the Education Policy Committee, Future Education Methods Steering Committee, a part Chairperson for the Examination Committee, and a two time member of the Board of Directors.
AWARDS FOR RESEARCH PAPERS
Arizona State University
Renmin University of China
The University of Texas at Austin
Lifetime Acheivement Award - Fred Kilbourne
Most Valuable Volunteer - David Scharf
The
Wynn Kent Public Communication Award
recognizes an actuary who has contributed to the public awareness of financial risk and the work product of the actuarial profession to the public in the fields of life, health, casualty, pension or other related areas. The intent of this award is to encourage actuaries to engage in activities that highlight the actuarial profession's role in financial security issues benefiting the public. - TBD
The
ERM Research Excellence Award
in Memory of Hubert Mueller recognizes significant contributions to the growing body of enterprise risk management knowledge and research. The award is given annually to the best overall paper at the ERM Symposium.
That's it! (I think)....cue the music!